NPS MedicineWise has published* the Top 10 drugs for the financial year July 2017 to June 2018 based on PBS and RPBS prescriptions. The data is based on date of supply of all prescriptions including those under the co-payment, sourced from the Department of Health in October 2018.
The top 10 medicines by cost to government are single originator brand products from the F1 formulary that, at the time of PBS listing, represented breakthrough innovations in their therapeutic area. Specifically, in the treatment of hepatitis C, macular degeneration and solid tumours. Overall, the ten represent 23% of government expenditure on the PBS and less than 1% of prescription volume.
Gilead's Epclusa®, Harvoni® and Solvadi® occupy first, fourth and seventh place, respectively. These account for almost 10% ($1.15 billion) of expenditure according to the data. However, rebates are not included and hence the real value that the Government place on this scientific breakthrough, on behalf of Australians, is unclear. The confidential nature of the effective price means it can be assumed that it is less than what governments and patients are prepared to pay elsewhere.
Anti-neoplastic and immunomodulating agents in the top 10 account for 7.3% of spend with AbbVie's Humira®; Roche's Herceptin® and the more recent checkpoint inhibitors, Opdivo® (BMS) and Keytruda® (MSD) represented. The top 10 for cost to government is rounded out by Bayer and Novartis with their macular degeneration treatments, Eylea® and Lucentis®, respectively. Xgeva® (Amgen) for bone mineral density is included at #8.
It must be assumed that risk share and/or special pricing arrangements are in place for all of these products. Thus the dollar values listed are likely to include rebate and cap re-payments that contribute to the PBS drug recoveries figure of $2.36 billion in the Department of Health Annual Report 2017-18.
Not surprisingly, the top 10 medicines by prescription volume all hail from the F2 formulary with multiple brands available. Cardiovascular treatments for cholesterol (rosuvastatin and atorvastatin) and blood pressure (perindopril) account for almost 14% of scripts dispensed. This is followed by protein pump inhibitors (esomeprazole and pantoprazole) for GORD and ulcers with 8% of volume. The 'overprescribed' anti-infectives cefalexin, amoxicillin and amoxicillin with clavulanic acid, represented 7.5% of all prescriptions supplied in 2017-18. Metformin for Type 2 diabetes and escitalopram for depression and anxiety are # 8 and #10, respectively.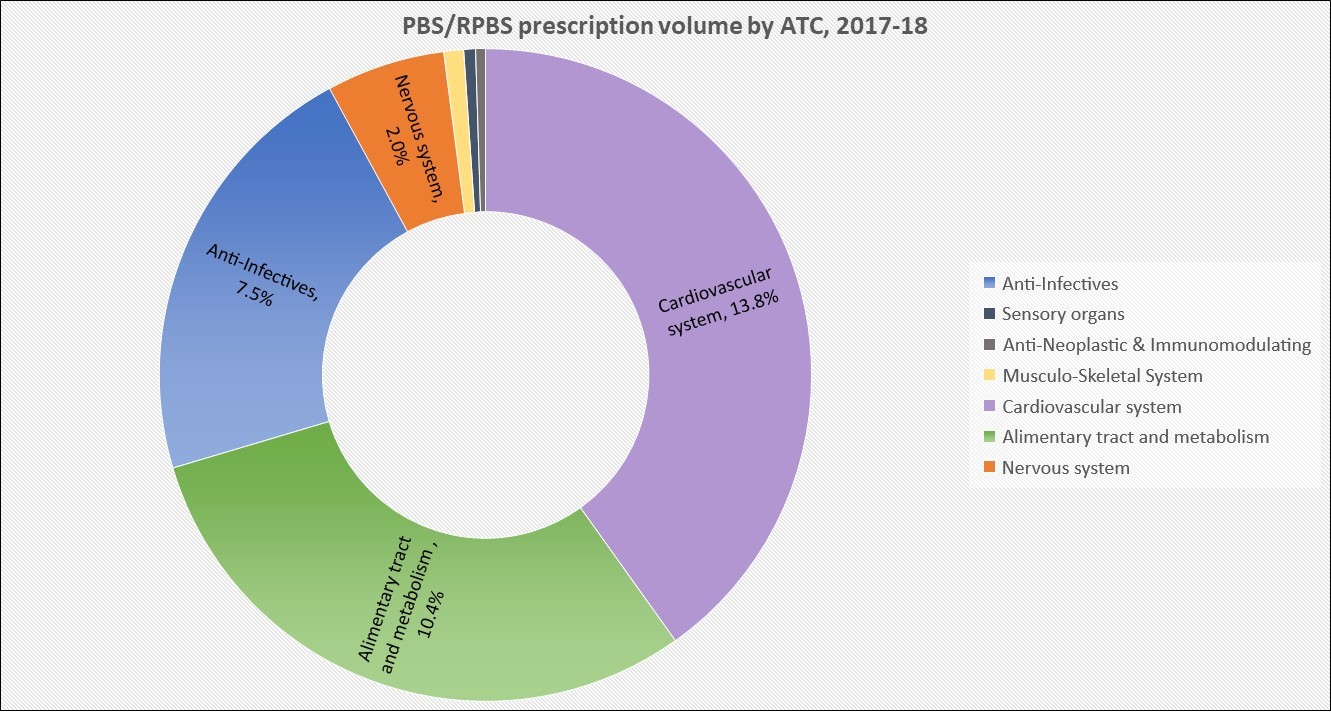 Source: Australian Prescriber* and Medicare Australia Statistics
The top 10 for defined daily dose (DDD) per thousand population per day is also included in the article and is suggested as a more useful measure of drug utilisation than prescription counts. It shows how many people in every thousand Australians are taking the standard dose of a drug every day. The list includes eight products for treatment of chronic cardiovascular disease (atorvastatin, rosuvastatin, perindopril, amlodipine, irbesartan, candesartan, telmisartan and ramipril). Esomeprazole and metformin complete the ten.
*Australian Prescriber 2018;41:1943 Dec 2018 DOI: 10.18773/austprescr.2018.067
https://tacshealthcare.com.au/wp-content/uploads/2018/12/Top-10.jpg
196
257
YeeHar
https://tacshealthcare.com.au/wp-content/uploads/2018/04/TACS-Healthcare-No_Icon_Large-1.png
YeeHar
2018-12-09 18:21:40
2019-11-11 10:03:21
PBS Top 10