Tackling a burgeoning inbox always reveals a few gems, such as the article by Ting Wang et al. published last month in ISPOR's journal Value in Health (2018;21:707-714).
Wang and colleagues developed separate surveys for international innovative pharmaceutical companies (n=19 companies with 29 respondents) and Regulatory (n=7; 13 respondents) & Health Technology Assessment agencies (n=8; 12 respondents) from Australia, Canada, and Europe. Questions referred to the past 5 years and alignment of regulatory and HTA evidence requirements and synergy of processes.
The findings are not surprising to those working in the HTA space for more than 5 years. In particular, with regard to the increasing need for HTA requirements to be included earlier in drug development with unanimous responses from the three key stakeholders (Figure 1, bottom statement). The high drop-out rate of molecules as they move along the development continuum and associated sunk costs mean that early studies focus on efficacy and safety variables. Collection of variables for economic evaluations (e.g. Quality of Life at specific time points, resource use, follow-up beyond primary efficacy parameter, subsequent treatments, etc.) to demonstrate cost-effectiveness is usually left to Phase III and too late for fast-track/priority reviews based on Phase II data. Once a medicine is registered, the opportunity to collect comparative data disappears, and often with it the ability to demonstrate the real value of the new medicine over existing treatments to a healthcare system.
Figure 1: Company respondents' views on the regulatory and HTA requirements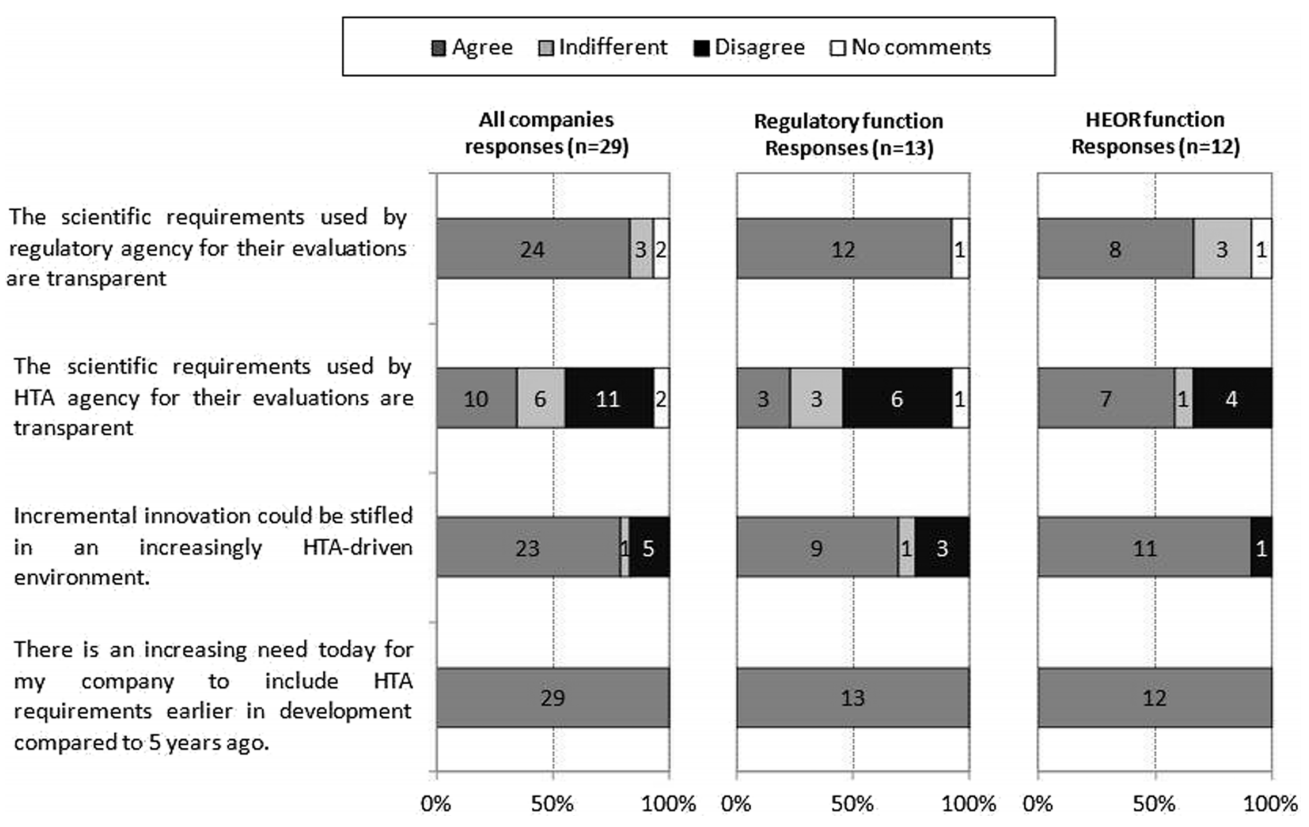 Abbreviations: HEOR Health Economics, Outcomes and Research
Figure 1 also shows that the potential negative impacts on innovation by HTA are recognised across the stakeholder groups as incremental gains are considered not to be rewarded by current HTA processes. Further education around HTA may drive policy changes that recognise and stimulate innovation in the sector.
Surprisingly, HTA agencies appear less concerned than their regulatory counterparts of the pressures to speed time to access to new medicines (as shown in Figure 2). The value of sharing of information to reduce duplication is also mismatched. This may be a consequence of the lack of clarity in differences in data requirements for the evaluations, which is alluded to by the higher response rate from HTA agencies on the need to align scientific requirements for the two processes. HTA evaluations are based on comparative efficacy and safety as applies to local clinical practice, whereas regulatory agencies focus on overall risk : benefit. The comparator is usually the currently most prescribed product used for treatment in a market, and costs are based on local circumstances. As such, there is considerable variability between HTA evaluations between countries, whereas the Common Technical Document (CTD) is generally acceptable with local modifications to all regulatory jurisdictions.
Figure 2: Main drivers for regulatory and HTA agency collaboration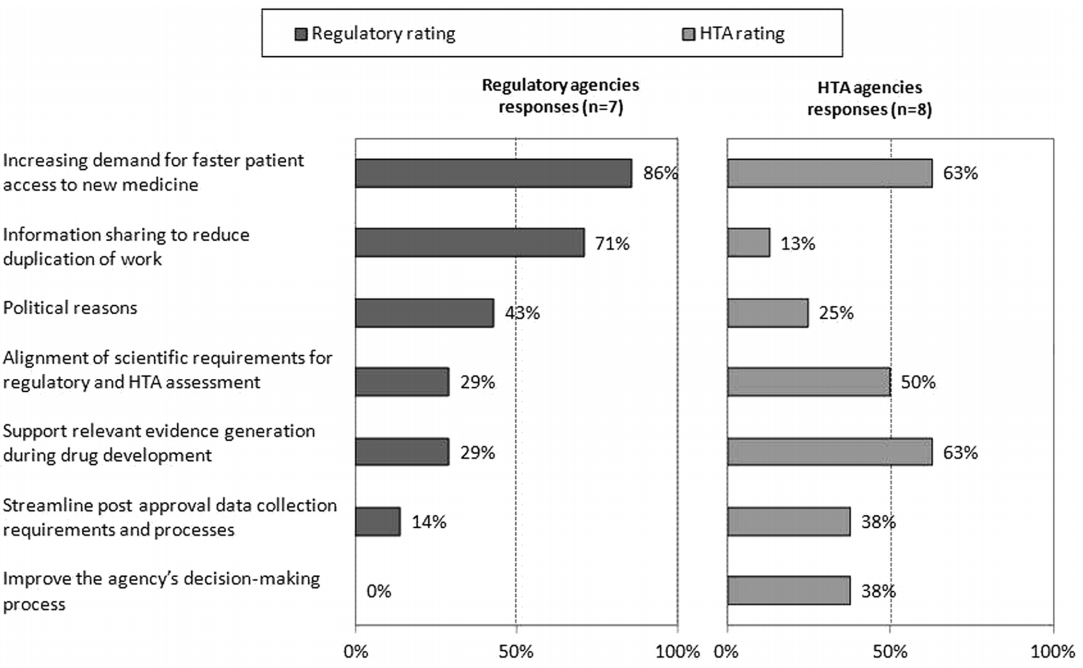 The article also includes further findings, more detail in supplement materials and a comprehensive set of recommendations on how to improve synergy between agencies. Pop this publication on your reading list as you travel to your next meeting with a regulator or reimbursement agency.
Source of main photo: 'Same Bed, Different Dreams' South Korean TV show aired in Australia by SBS
https://tacshealthcare.com.au/wp-content/uploads/2018/07/Same_Bed_Different_Dreams_poster.jpg
228
436
YeeHar
https://tacshealthcare.com.au/wp-content/uploads/2018/04/TACS-Healthcare-No_Icon_Large-1.png
YeeHar
2018-07-22 18:30:35
2019-11-13 09:55:29
Same bed, fewer different dreams?