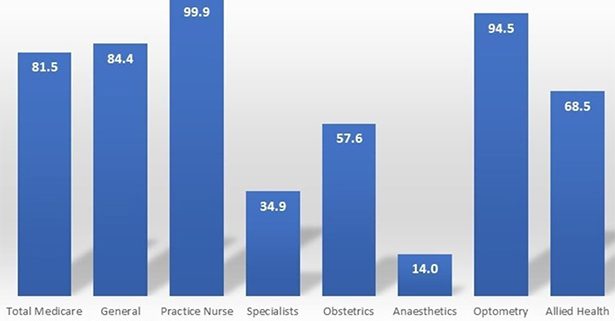 Is this service Bulk Billed?
The status of out-of-pocket (OOP) costs paid by Australian patients for healthcare continues to be an enigma. On one hand, regular media releases, reports & inquiries suggest it is an issue; while on the other, Australian Institute of Health & Welfare figures support a conclusion of limited growth in this component of healthcare spend, although somewhat blurred between public and private settings.
Clinician fees are one place where precise data, incorporating both public and privately provided services, are available, courtesy of the Department of Human Services Medicare payment system. Medicare bulk billing is at the discretion of the health professional. Patients assign their right to the Medicare benefit amount to the health professional, meaning the patient pays nothing and the health professional accepts the Medicare scheduled fee as full payment for provision of the service.
The Australia-wide Medicare schedule fee observance statistics for 2016-17 (see graph) show that the majority (over 80%) of doctor visits are bulk billed. However, removing the impact of the relatively higher volume of GP visits, reveals that approximately 65% of specialist visits did require an out-of-pocket payment by the patient during that period.
In defence of clinicians, the MBS rebate indexation freeze, first introduced for nine months by Labor in 2013, and a further 4-years from July 2014 by the Coalition, is considered a key factor contributing to the increasing gap (OOPs) between patient's Medicare rebates and medical fees. The decision to extend the freeze for a further two years in 2016 was partially wound back in the 2017-18 Budget, with the provision of $1.0 billion to reintroduce indexation for certain items on the MBS.
https://tacshealthcare.com.au/wp-content/uploads/2018/05/bulkbilled.jpg
345
615
YeeHar
https://tacshealthcare.com.au/wp-content/uploads/2018/04/TACS-Healthcare-No_Icon_Large-1.png
YeeHar
2018-04-18 14:54:05
2019-11-11 10:12:35
Is this service Bulk Billed?